TEGS Asia Sdn Bhd
JB Office & Demo Showroom:
No. 10, Jalan Masyhur 3, Taman Perindustrian Desa Cemerlang, 81800 Ulu Tiram, Johor, Malaysia.

TEL: +6012-779 9169
(Nabila) – Marketing

TEL: +6018-295 6818
(Norsiah) – Customer Service
TEL:
+6016-7951778
(Eddie)
bryan.lim@te-gb.com

eddie@te-gb.com

marketing@te-gb.com
Factory Address:
Lot 11688, Batu 8-1/2, Jalan Serom, Sg. Mati, 84400 Tangkak, Johor, Malaysia.
Thermal Transfer Ribbon
Coding and Printers --- Thermal Transfer Ribbons ---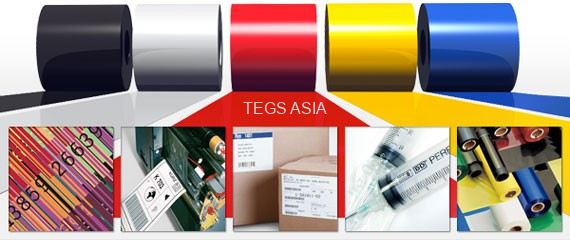 Wax Ribbons
Wax ribbons belong to the most economic quality group and have been designed especially for
applications using low printing energy. They have been developed mainly for paper labels where excellent
results are achieved even on rough surfaces.

Premium Ribbons
The formula of premium ribbons is based on wax and resin. They are applied at medium printing energy.
Premium ribbons guarantee accurate and detailed prints on smooth surfaces and are suitable for plastic
labels. Compared with wax ribbons the abrasion and scratch resistance is much higher.

Resin ribbons
Resin ribbons have been designed for smooth plastic surfacesand accurate printing results with high
durability and are applied at high printing energy. They are particulary abrasion resistant, scratch resistant
and also resistant against gasoline, alcohol and some solvents.

Near Edge Premium Ribbons
Near Edge thermal transfer printers are designed to print up to 1000mm/sec. KURZ Near Edge Ribbons
are designed to give good printing results at this high speed and they are printable on smooth paper stock
as well as on many plastic labels and films.